Hey guys, so far not a fan of the Roxio HDLab I bought, namely the MyDVD burner software, hoping you can help me out.
First, system Specs:
Windows Vista Ultimate 64-bit
Intel 3.16ghz Duo-core Wolfdale Processor E8500
EVGA 9800GTX+ overclocked video card
8 Gb DDR2 Ram
ASUS DRW-24B1ST DVD-RW burner (brand new; firmware up to date, running via SATA cable)
Media: Memorex DVD+R 4.7GB discs.
I am trying to burn some files. The JVC camcorder uses the AVCHD file type, or on my computer it is listed as a .mts file. The files are saved to my C drive, so they are not on the camcorder any more. The file is recognized and editable in MyDVD and I can add and even play it in the HDlab suite. However, when I go to actually burn the files onto a disc, MyDVD will just hang on the encoding. This is very basic, I just grabbed 2 files, no fancy editing, standard 2D and am trying to burn them to a completely untouched disc. I literally bought the new DVD burner (ASUS) because I thought my Old Lite-On was bad (which actually it probably is being that it couldn't even write data to the DVD using Nero) but it is still not working. The Lite-On was hooked up via the older style 'band' cable, I believe it is just ATA? The new drive is running via the Serial ATA that my hard drives use as well, I believe transfer speed is 3 gb/s.
Last night I tried to burn using the new drive and I kid you not, I set it and walked away expecting it to work with the new drive, and 6 hours later when I came home, the screen looked like this with no errors: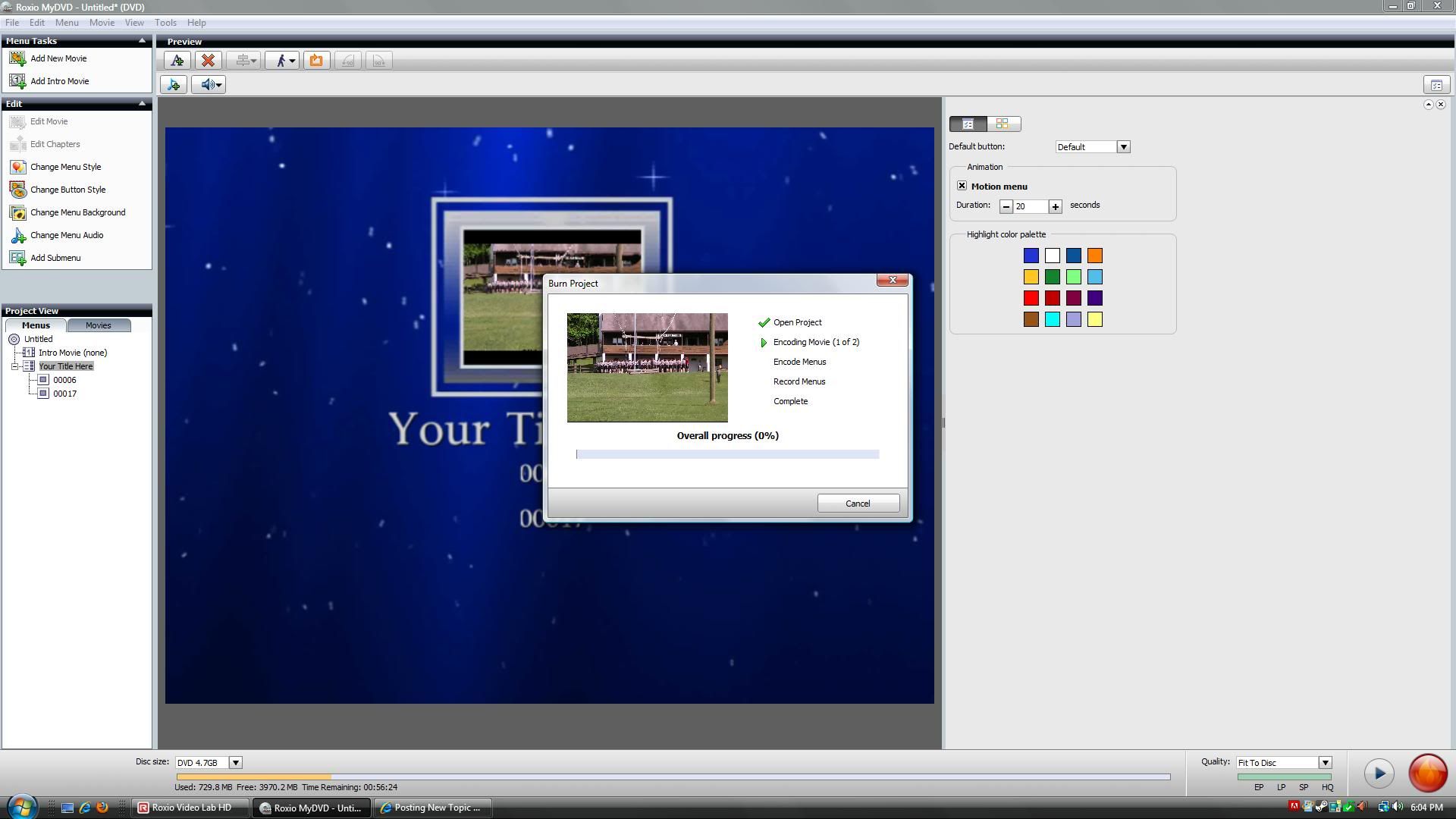 I have no erros in my Event Viewer logs, no errors pop-up, it justs sits and does nothing. Drive doesn't initiate (but from what I read it doesn't burn until after everything is encoded)
I can't think of what is going on. My computer is restarted nearly daily so it isn't because it is not 'fresh'. I'm really frustrated, I've been battling just trying to get a burned DVD of this for a friend for over a month and spent now $100 on it including the software and drive. Please help.
Edited by XTwarrior, 26 August 2011 - 02:24 PM.