Hello all
First post I have a Short film that I am trying to burn to Blu Ray using Toast 10.0.9.
The file is Apple ProRes QT 41GB and it runs 30 minutes.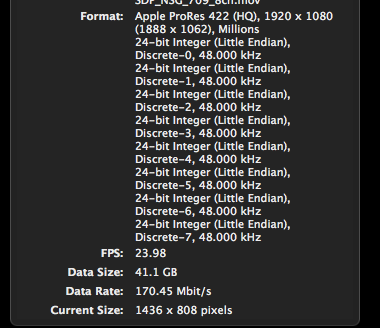 I have burned two Blu Rays already One in Mpeg 4 and the sound went off synch the second one burned in synch using Mpeg 2, although I feel the video does not look as good. My QT was generated at a my post house from the color timing session.
My concerns/questions are:
1) Why does the 41GB file compress down to 6GB. Is there a way to have the file less compressed? Would it be less compressed in Toast 11?
2) Is there a definitive guide to the best setup for my project? There seems to be an infinite amount of variables when going into custom encoding and each encoding session takes 3-6 hours so I don't want to spend a week experimenting.
3) Should I use Mpeg 2 or Mpeg 4?
NAny Help with this would be greatly appreciated.
Thanks
Steve
Edited by hirohawa, 31 March 2012 - 11:12 PM.